Description
LANGIE top up SIM with 1GB prepaid pack for translation in 70 countries around the world for use in LANGIE translator. The voice call function through SIM is not supported. With this unique SIM card, you can enjoy all the functions of LANGIE translator such as image search, group interpreter, language club, HOTSPOT access point creation and all this in 70 countries around the world.
The only requirement is to have at disposal a
3G/4G signal for data connection
. So you
no longer have to look for an available WiFi network or pair the translator with your mobile phone
, LANGIE will work completely independently.
The prepaid data pack 1GB will last on average for more than 12000 translations in 70 countries around the world
. If you will spend out the credit, you can recharge it conveniently through website 
www.langiesim.com
.
This SIM card is ideal for creating a HOTSPOT and sharing internet data with other mobile devices.
To check your data usage balance, go to Settings -> Langie SIM to see the remaining data and expiration date.
The SIM card is valid for 1 year. Once the prepaid data has been used, you can recharge the SIM card directly via  website www.langiesim.com
The period of recharge validity is up to 2 months from the expiry date.
The unused credit is not transferred, even if you newly recharge your SIM card.
** This is an unlocked SIM card that is available for LANGIE translator or other mobile devices.
** The data pack for recharging 1GB, 2GB, 5GB and list of supported countries follow the information on the website
www.langiesim.com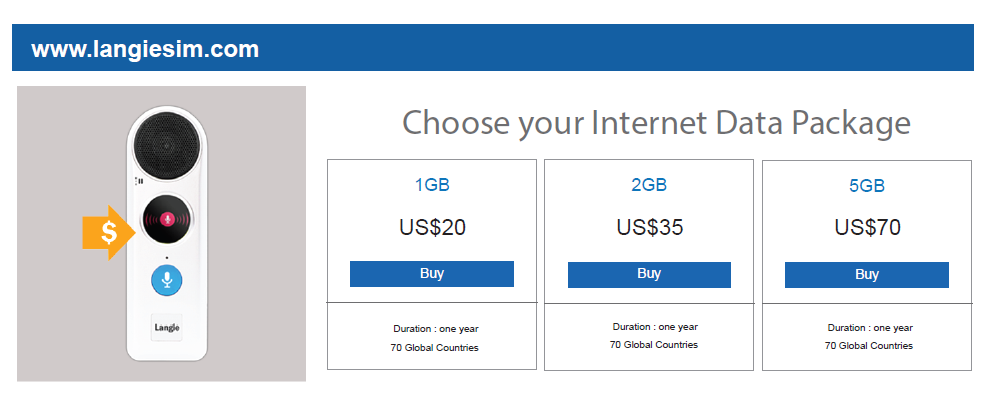 List of supported countries:
England, Argentina, Australia, Bangladesh, Belgium, Brazil, Bulgaria, Cambodia, Canada, Chile, China, Croatia, Cyprus, Czech Republic, Denmark, Estonia, Finland, France, Germany, Ghana, Greece, Hong Kong, Hungary, Iceland, India, Indonesia, Ireland, Israel, Italy, Japan, Laos, Latvia, Liechtenstein, Lithuania, Luxembourg, Macau, Malaysia, Malta, Mexico, Netherlands, New Zealand, Norway, Panama, Peru, Philippines, Poland, Portugal, Qatar, Austria, Romania, Russia, Saudi Arabia, Serbia, Singapore, Slovakia, Slovenia, South Africa, South Korea, Spain, Sri Lanka, Sweden, Switzerland, Taiwan, Thailand, Turkey, Ukraine, United Arab Emirates, USA, Vatican, Vietnam.