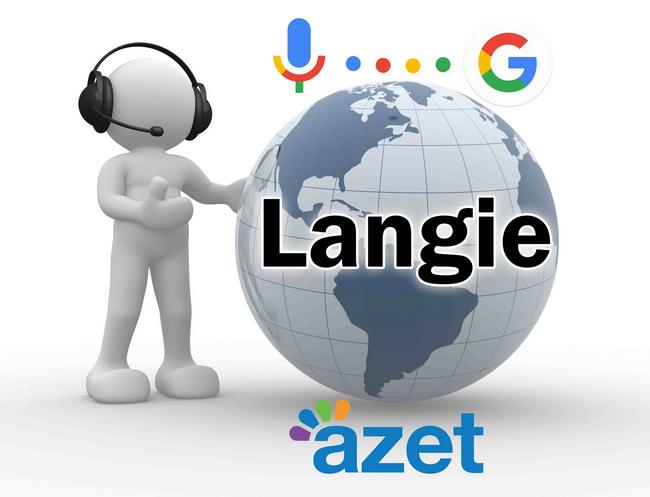 We have for you more than a good alternative, a LANGIE pocket voice translator online/offline in 52 languages for the best two-way translation of sentences on the world with direct recorded voice sound translation, thanks to which you will never have a problem to communicate everywhere in the world.
It is intended for everyone, whether children or older people,who will appreciate easy using.  Langie voice translator (electronic translator) support English language, and all this in the form of sound, and indeed with the INCREDIBLE ACCURACY OF TRANSLATION! This translator does not use google or azet services, but has its own servers (thanks to which the translation is not robotic but with the real accent of language.
How does it actually work?
The Langie is equipped with a built-in 1″ touchscreen LCD and a dual system of high-quality speakers and microphones.

If you want to translate some text or words into another language, simply press and hold the blue microphone button and release it after the spoken message (text) is over. Within 1-2 seconds, the translator translates your message in the form of text viewed on the display, and this message will also be launched in the audio form (this language must be supported). If you want to translate what the other person tells you, simply press and hold the yellow microphone button and release it again when the message is finished. The whole process is incredibly simple.

Translator LANGIE translates your texts instantly and communication is therefore completely fluent. Thanks to the practical miniature design, it is very easy to carry, you can put it in your pocket, handbags and so on. You will also appreciate the battery life that can power LANGIE for up to 5 days in standby mode/5 hours of continuous operation.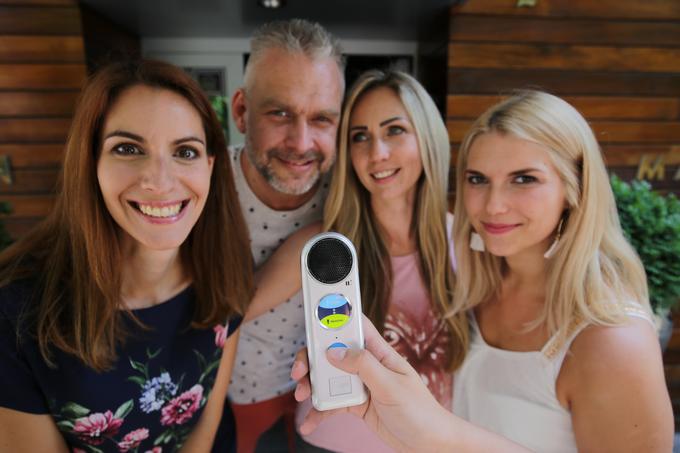 Here you can view table of LANGIE translator supported languages
Not all languages have a spoken voice translation, but the English language is also including a recorded spoken text translation (all languages translate phrases even in text form on the LCD display).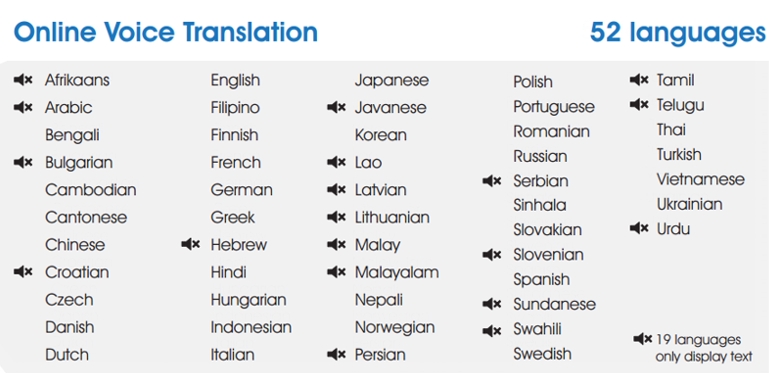 What are the benefits of the LANGIE pocket translator versus the classic translators through the app on your phone?
LANGIE translator is a professional translating device, the hardware and software system has been designed and manufactured directly for speech translation. It is not a phone designed for multiple purposes.
Specially designed for use in a more noisy environment (speech translation noise reduction), the simple applications can have a problem with it.
Very easy and non-problem use. Even for really not technically based people.
Very easy and non-problem use. Even for really not technically based people.
It uses the highest quality translation services and integrates the world's leading speech recognition systems, the learning system mechanism has LANGIE almost at the same level as people. Its language recognition system is hybrid, based on acoustic neural network modeling and language modeling.
It uses an advanced translation service, the accuracy of the translation is much higher than the classic free phone applications in the phone.
LANGIE uses its own servers to provide translation services in many places in the world, the speed of translation is very fast and the translation service is stable.
It is a standalone product that is not tied to use with a mobile phone or application on the phone, it does not store and requires no personal data compared to the use of the mobile application over the phone.
LANGIE also has many other features, such as learning, group translator, and others.
In many cases, the use of a mobile phone is quite personal. The person you are trying to communicate with, is not familiar with your phone and after a certain time will probably need to return your phone back to you to unlock the screen. Mobile phone is for one user, not for multiple users. Using a mobile phone for these two-way translations makes it quite uncomfortable.
LANGIE does not require any hidden charges for the use of translation services.
And you will also appreciate these benefits below:
langie use of translator

Just 1 second and LANGIE
will translate whatever you want


More than 10 seconds
before you start translation

Directs audio translation
exactly to the other person

It does not direct the audio translation
to the other person

Battery life LANGIE is up to 5 days

Battery life of Smartphone
usually within 1 day
Why is better to have a WiFi connection, than the OFFLINE translation when using LANGIE?
Certainly, you need to realize that any OFFLINE translation mode on all translators contains only a limited vocabulary (basic only) and the translation is often inaccurate or incomprehensible. ONLINE mode after connecting to the WiFi network ensures constant updating and correction of the translation, the database is several times larger than the offline translation so you have the guarantee that the translation will be as accurate as possible and you will be able to communicate without any difficulty. For WiFi connection, we recommend that you create HOT SPOT mobile wifi access point directly from your mobile (which you will always have on hand).
Within the EU, you can use mobile data free of charge (as part of your prepaid package), so if you travel to countries outside the EU, we recommend buying a local data SIM card (which usually costs 10-20 euros). Internet connection will keep you active, you will be able to surf the internet via your cell phone everywhere you move and the LANGIE translator will work best as it can  🙂
If you want to know more about what manages LANGIE electronic pocket translator. Just have a look to our website.